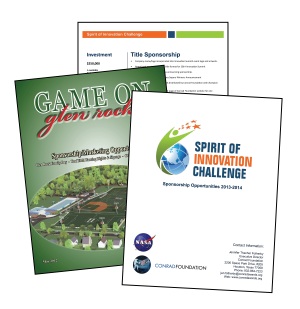 Creative Edge Consulting helps organizations create corporate sponsorship packages for special events, one-time-only projects, and annual program support. As a stand-alone activity or as part of a comprehensive fiscal development plan, we'll help you determine the marketing benefits you could offer to a potential sponsor at multiple tiers of participation, as well as help identify prospective sponsors at both the local and national level.
We are a big fan of sponsorship programs since, unlike grant funding, it is possible that relationships with corporations can result in renewable revenues from year to year. In fact, that is a primary goal with this type of funding. But, in order for that to happen, your event or program has to give sponsors what they seek—public recognition and exposure worthy of your "ask" amount. This means that we should talk about your event or sponsored programming in terms of audience and "impressions," and explore whether or not it is time to take things to the next level.
As with all CEC services, we stay in the shadows, arming YOU with the information and tools you need to build relationships with funders. We do not contact prospective sponsors on your behalf, but we do lead you through the process and help prepare you for any phone or in-person pitches. Conversely, we can directly engage in preparing online submissions for companies that have a web-based system for sponsorship requests—which are quite common for large corporations.