INTRODUCTION
As we commemorate the 58th anniversary of Medicare on July 30th, we honor its invaluable contributions to providing healthcare security for millions of Americans. However, amid the celebration, a harsh reality persists—countless individuals suffer daily, and some lose their lives due to lack of access to quality medical care. Unbeknownst to many, the pursuit of profit-driven healthcare draws unsuspecting individuals into Medicare Advantage, ensnared by its deceptive allure. This blog aims to expose the truth behind Medicare Advantage plans while contrasting them with traditional Medicare. We must confront the moral failure that allows this inequitable system to prevail, and rally for transformative change through Medicare for All.
Traditional Medicare: A Proven Pillar of Healthcare
Traditional Medicare has served as a lifeline for millions, providing stability and quality healthcare for older adults and persons with disabilities. Yet, the sobering truth remains that people continue to suffer, with many losing their lives—or quality of life—due to inadequate access to medical care… or the RIGHT medical care. On Medicare's 58th Birthday, let us acknowledge both the successes and systemic failures of this program, and amplify the fight for equitable healthcare for all. To begin, the American people must know how Medicare is being hijacked and manipulated by corporate interests.
Beware of the Fine Print: The Deceptive Allure of Medicare Advantage Plans
Medicare Advantage, with its enticing claims of extra perks, operates within a profit-driven model that prioritizes financial gain over human lives. Unknowingly, many enroll in Medicare Advantage without realizing they are opting out of traditional Medicare. Misleading marketing tactics lure beneficiaries with the promise of additional benefits and lower premiums.
Unlike traditional Medicare, which offers a broad provider network and the freedom to choose doctors and hospitals, Medicare Advantage plans restrict access to specific networks and may deny coverage for essential treatments. The lack of clarity surrounding the differences between the two options leaves many vulnerable to making uninformed decisions about their healthcare coverage, with tragic consequences—including the ultimate cost: our lives. Clearly, profits take precedence over human well-being and dignity under Medicare Advantage.
Empowering Change: Advocating for Comprehensive Healthcare for All
Reflecting on 58 years of Medicare, we certainly can celebrate the amazing success of this program while additionally acknowledging the systemic flaws and inequities that continue to exist. Don't let politicians and corporate shills fool you. Instead of considering its elimination, we must focus on strengthening and expanding traditional Medicare to ensure comprehensive care for everyone.
Obviously, I am posting this blog on my nonprofit consulting website. It's a platform where I rarely, if ever, remark on the social justice work I do in a personal capacity. But every day, I see people with life-threatening and (imminent, fairly imminent, and eventual) terminal illnesses who cannot access medications and other treatments due to staggering out-of-pocket costs, denied treatment, prior authorization nightmares, and inability to see the specialists they so desperately need. Low-income folks fare the worst, of course. Turns out, how long and well we live often DOES come down to socioeconomic status. So yeah, I have strong feelings about that.
No Cape Needed: We Can All… Be A Hero
We can and should celebrate Medicare's 58th Birthday. It's an incredibly popular and impactful healthcare system. But the sobering truth remains that people die every day due to a lack of medical care—and unbridled corporate greed. This is the crisis that demands urgent and unrelenting action.
It may take time to get to universal healthcare, but everyone needs to be in this fight—NOW. I am counting on you, as are countless Americans you will never meet. You can start by joining me as an advocate and activist, and volunteer with Be a Hero. I have wanted to work with Ady Barkan for many years now, and I finally asked myself… if not now, when? I didn't suddenly have more time to spare. Nope. But I heed the call to actively engage on healthcare policy and systems change—TODAY. My voice and contributions matter. Yours do, too.
Speaking of Ady, if you haven't seen the documentary about his life and fight for healthcare for all, I highly recommend you watch "Not Going Quietly." Here's the trailer for this remarkable film:
Listen Up: Medicare is Already Being Privatized
If this is all new to you, I encourage you to check out this enlightening Twitter conversation between patient advocate Peter Morley and Representative Pramila Jayapal (D-WA). I learned A LOT from hearing this particular discussion about Medicare and what is happening in both policy and in practice. Set aside 30 minutes of your time. You may likewise gain additional insight into how this will affect you—now or in the future. They specifically discuss the difference between traditional Medicare and Medicare Advantage, as well as the reality that privatization of this public good is already happening.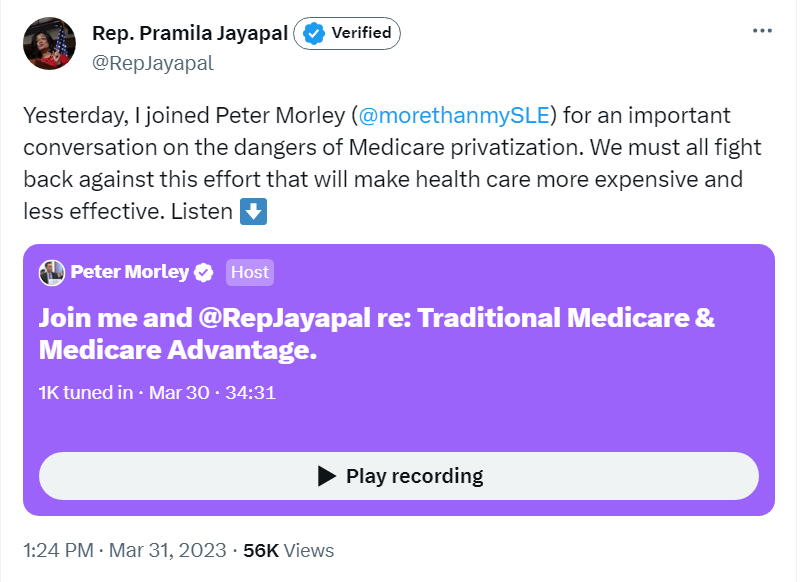 Since many people are not on Twitter, I have provided audio of the conversation here:
CONCLUSION
Please disregard baseless rhetoric that equates quality, person-centered healthcare with "socialism." It's merely a scare tactic to dissuade us from advocating for Medicare for All—a single-payer, national health insurance program that would cover every American, ensuring comprehensive healthcare, regardless of age, income, or pre-existing conditions.
Medicare for All is not just a brilliant policy proposal; it is a moral imperative that upholds healthcare as a fundamental human right.
#ReclaimMedicare